28th Baltic German Symposion of Pathology
Ort

Riga / Latvia

Beginn

17.05.2023

Ende

21.05.2023
The 28th Baltic-German Symposion of Pathology is organized by the German & Baltic Divisions of IAP.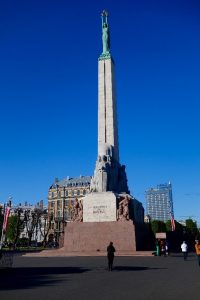 Freedom Monument Riga, Latvia. Foto: private
Meeting Venue:
University of Latvia, 19 Raina Blvd, LV-1586 Riga, Latvia
Registration Fees
Pre-Program May 17 – 18, 2023
€ 300,00 Including accommodation in single room*
€ 220,00 Including accommodation in double room*
€ 110,00 without accommodation
* for members of the German Division of IAP and receipt of registration by January 9, 2023.
All other participants are kindly asked to register in the pre-program without accommodation and to book their rooms on own expenses.
---
Main Program May 19 – 20, 2023
Members of the IAP German Division
€ 520,00  Including accommodation in single room*
€ 355,00  Including accommodation in double room*
€ 165,00  Without accommodation
IAP German Division member without course participation or accompanying person of a member of the IAP German Division
€ 450,00  Including accommodation in single room*
€ 280,00 Including accommodation in double room*
€   95,00 Without accommodation
---
Members of the IAP Baltic Division
€ 160,00 Members of the IAP Baltic Division
€   95,00 Accompanying person of a member of the IAP Baltic Division  
---
Non-Members
€ 200,00 Non-Members IAP German or Baltic Divisions
€ 100,00 Accompanying person of a non-member
---
Reduced Fee for Residents
€  50,00 Resident Fee**
€ 120,00 Resident Fee including tickets for Opera & Dinner on May 19, 2023**
**The resident status must be confirmed by a formal letter signed by the head / chairman of the department and must be uploaded with the online registration. Without proof your registration cannot be processed.
---
Follow-up Program May 20 – 21, 2023
€ 240,00 including accommodation in single room*
€ 155,00 including accommodation in double room*
€  60,00 without accommodation
Registration
After registration the office will send a confirmation of registration and the invoice.
Deadline for registration is March 15, 2023.
Pre-Program May 17 - 18, 2023
Wednesday, May 17, 2023: 
Arrival in Riga
17:00 – 19:30  Guided City Tour /Meeting Point: Hotel Lobby Radisson Blu Latvija
19:30 – 22:30 Dinner@Restaurant Gutenbergs
---
Thursday, May 18, 2023:
09:00 – 16:00 Excursion Historical center of the village of LĪGATNE PAPER FACTORY (Lunch included)

Already for 200 years the name of Līgatne has been closely connected with the paper factory. The factory was founded in 1815 and had its heyday at the end of the 19th century. Guests of the town have the opportunity to get an insight into the history of the town, to see the most beautiful places in the town center and to get acquainted with the way of life of the local inhabitants at that time within a visit to the historical center of the paper mill village. Accompanied by a tourist guide, the guests can visit the paper mill production plant and the residential and public buildings. Also worth a visit are the sandstone caves, where the inhabitants of the town store their vegetable stocks harvested in the fall.
Main Program May 18 - 20, 2023
Thursday, May 18, 2023:
19.00 – 22.00: Welcome Reception @DAILY lunch restaurant, 12 Z. Meirovica boulevard
---
Friday, May 19, 2023: Venue: Mazā Aula, 19 Raina Blvd
09:00: Symposion opening.
Welcome note: Prof. Valdis Folkmanis, MD, PhD, Dean Faculty of Medicine, University of Latvia, Riga / Latvia
09.05 – 13.00: Seminar I: Interpretation of liver biopsies (Uta Drebber, Cologne / Germany)
11.00  – 11.30: Coffee Break
13.00  – 14.00: Lunch
14.00 –  17.30: Seminar II: Dermatopathology (Erhard Bierhoff, Bonn / Germany)
15.30 –  16.00: Coffee Break
Social Program
19.00 – 21.30: DON QUIXOTE Ballet performance at the Latvian National Opera
22.15 – 23.30: Dinner at Restaurant Kalku varti, Jauniela 20, Riga Old Town
---
Saturday, May 20, 2023: Venue: Mazā Aula, 19 Raina Blvd
09.00 – 13.00: Seminar III: Testicular tumors (Felix Bremmer, Göttingen / Germany)
11.00 – 11.30: Coffee Break
13.00 – 14.00: Lunch
14:00 – 16:00: Oral Presentations
16:00: Farewell
Follow-up Program May 20 - 21, 2023
19:00 – 20:30 Concert @ the Great Guild
21.00 – 22:30  Dinner @Kolonade Our Stories,  6 Brīvības Blvd., Riga LV – 1050, Latvia
---
Polina Osetinskaya:
Polina Osetinskaya was born in Moscow and began performing at the age of five. She was soon acclaimed as a Wunderkind. She gave her first concert at the age of six at the Vilnius Conservatory in Lithuania and at the age of seven entered the Central School of Music of the Moscow Conservatory. Polina Osetinskaya's onstage partners have included Maxim Vengerov, Julian Milkis, Anton Batagov and Alexander Knyazev and she has worked with conductors such as Saulius Sondeckis, Vassily Sinaisky, Andrei Boreiko, Tugan Sokhiev, Laurent Petitgirard, Yan Pascal Tortelier, Teodor Currentzis.
She appears at the world's most important concert halls, including the Barbican in London, the St Petersburg Philharmonic, the Moscow Conservatory and the Musikverein in Vienna, as well as in Rome, Tokyo, Milan, Brussels and throughout the USA, as well as at many festivals in Europe, the USA, Russia and Mexico. Polina Osetinskaya has performed with ensembles such as the Tokyo Philharmonic Orchestra, the Orchestra of Weimar National Opera, the St Petersburg Academic Symphony Orchestra, the Brno Philharmonic, the European Sinfonietta.
After her debut at the Salzburg Festival in 2019, she performed in triumph at Carnegie Hall, where she now performs every season. In recital, Polina Osetinskaya is known for her unusual programmers, which include works by contemporary composers juxtaposed with traditional, classical works.
Her tone is deep and rich, her articulation faultless and her feeling for the pulse of the music she is playing is as natural as breathing – that's something that cannot be taught. » – KLASSISKMUSIKK
Abstract submission / Oral Presentation:
To enhance our interaction and discussion even further, we welcome application for 10 minutes of Oral Free presentations and 2 minutes for questions & answers.
Short abstract of no more than 20 lines should be submitted until April 10, 2023 to martina.schmidt@iap-bonn.de  to forward the abstracts for evaluation to the committee members.
The three best proposals will be awarded by 250, 150 and 100 € each, sponsored by the Vladimir Totović-Foundation.
You may choose any subject of interest for educational or scientific pathology.
Submitter should prepare a power point presentation and bring it with them on a USB stick. We would like to give all submitters the opportunity to present their work irrespective of the evaluation of the abstracts.
R1 Excursion Rundale Castle on Friday May 19, 2023
09:00 - 16:00
The 18th-century Rundāle Palace is the most outstanding example of Baroque and Rococo architecture in the entire Baltic region. Unlike many European palaces, Rundāle has preserved the stylistic integrity of its century's architecture, as there was hardly any reconstruction or modernization in the later periods. This is also true of the landscape of the Semgallen (Lat. Zemgale) region surrounding the palace. However, the interior of the castle suffered greatly from the two world wars in the 20th century. It is only through fifty years of careful restoration and thanks to the extraordinary dedication of art historian and painter Imants Lancmanis (1941), who was also the director of the museum from 1972 to 2019, that the castle can be admired in its original splendor by interested visitors.
13:00 – 14:30             Lunch@ Mazmežotnes muiža
Mazmežotne manor and mansion – a fusion of culture, art and well-kept environment
In 1795 Charlotte von Lieven received the manor as a gift from the Russian Tsarina Catherine II. It was at this time that the construction works began. The buildings suffered considerable damage during the 1st World War. During the first years of Latvia's state independence, the manor was managed in an exemplary manner, and in WW2 the residential building was destroyed by fire. In 2007 the restoration of the ensemble began.  Mazmežotne is located on an oxbow lake of the Lielupe River.
The manor is now used for tourism. For friends of active recreation and nature lovers also bicycle tours, boat trips, walks on the nature trail and the surrounding trails. A nature trail has been established in the vicinity of the manor, which runs along the left bank of the Lielupe River and acquaints with the natural diversity of the riverbank.
R2 Excursion Jaunmokas & Jurmala on Saturday May 20, 2023
09:00 - 16:30
Jaunmokas (New Mock) Castle was built around 1901 for the head of Riga George Armitstead as a hunting lodge and his summer residence. The castle and the horse stable were designed by the architect Wilhelm Bokslaf in 1898. Jaunmokas Castle is one of the most famous brick buildings in Latvia. The interiors were restored in the style of a hunting lodge at the end of the 20th century. The original tiled stoves are especially valuable; one of them was made at the turn of the century (19th/20th c.) for the 700th anniversary of the capital, on its tiles are depicted views and scenes of Riga and its surroundings.
Forest Museum
Nowadays, the Forest Museum is also located in the castle, where the forestry of Latvia is presented and there are expositions dedicated to hunting, as well as the Latvian Sign Center, where everyone can create their own Latvian sign. There are also herbal tea tastings, thematic tours and other events, for example, a forest linnet school or a tour for newlyweds.
13.00: Lunch
14.30 – 15.30: Walk on the white sandy beach of Jūrmala
15.30 -16.00: Free time in Jūrmala
16.00: Departure to Rīga
16.30: Arrival in Rīga
CME Accreditation
The 28th Baltic-German Symposion of Pathology of the German & Baltic Divisions of IAP, Riga, Latvia, 17/05/2023-21/05/2023 has been accredited by the European Accreditation Council for Continuing Medical Education (EACCME®) with 9 European CME credits (ECMEC®s). Each medical specialist should claim only those hours of credit that he/she actually spent in the educational activity.
Through an agreement between the European Union of Medical Specialists and the American Medical Association, physicians may convert EACCME® credits to an equivalent number of AMA PRA Category 1 Credits™.  Information on the process to convert EACCME® credits to AMA credits can be found at www.ama-assn.org/education/earn-credit-participation-international-activities.
Cancellation
Deadline for registration is March 15, 2023. Cancellation of participation with full refund less a handling fee of € 40,00 is possible until March 15, 2023 After this date no refunds will be given.
Sie haben 0 Veranstaltung(en) auf der BuchungslisteJetzt buchen